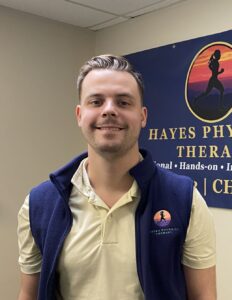 Iain is a licensed Physical Therapist who was born and raised in Randolph, New Jersey. He completed his undergraduate education at the University of Scranton in 2018 with a major in Exercise Science and concentration in Nutrition. He continued his education at Scranton, earning his Doctorate in Physical Therapy in 2021.
Iain is motivated through continued education and is certified in the Selective Functional Movement Assessment (SMFA). The SFMA system is currently being used at Hayes Physical Therapy as a head-to-toe functional movement tool to not only target exercises related to specific injuries, but also connects the entire body for healthy functional movement and best long term outcomes! Iain is also pursuing FMS certification for higher level athletes to assess injury risk, optimal performance and conditioning.
He has prior experience working with collegiate athletes and with the neurological population, using the LSVT BIG certification. While in graduate school he worked as a Strength and Conditioning trainer for the University's Athletic Department and spent time traveling to Guatemala for a medical service trip. Since graduating, Iain has been a practicing clinician in an Outpatient Physical Therapy setting, treating a wide variety of orthopedic conditions. He has special interest in treating patients with injuries related to the shoulder complex.
Iain has a patient-centered, holistic approach to his care. His treatment philosophy includes listening to his patients to achieve their goals. He is passionate about the outcomes of his patients and believes that the quality of movement is vital for peak function.
Iain is excited about living in the Philadelphia area. He has a love for sports and is an Eagles fan despite being from North Jersey. In his free time, Iain enjoys spending time with friends and family, watching sports, exercising, and recently picked up golf.
He looks forward to seeing you at Hayes Physical Therapy soon!