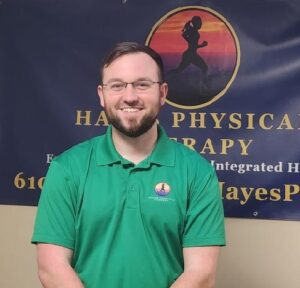 Tyler is a licensed physical therapist who received his bachelor's degree in Exercise Science in May 2019 and his Doctor of Physical Therapy from Lebanon Valley College in May 2021. His program at LVC was very manual therapy focused and has allowed Tyler to begin his career focused on hands-on treatment with patients. 
He is interested in all types of outpatient orthopedic topics and looks forward to working toward a manual therapy certification as well as a certification in functional movement through SFMA. The combination of these certifications will allow for targeted healing and exercise both locally and globally to contribute to sustained patient success in the long-term. Getting to the root of dysfunctional patterns. He is thrilled to be in a clinic that can utilize Class IV Laser as well as NeuFit technology to supplement treatment sessions. His favorite part about being a PT is making patients laugh and smile throughout their journey of healing so that treatment is beneficial for the mind and body!
Outside of the workplace, Tyler is an avid Philadelphia sports fan and was lucky enough to attend the Rhys Hoskins bat spike game against the Atlanta Braves. He likes to play slow pitch softball on Sunday mornings on a team with friends and family to stay active.